INTERACTIVE PWA CATALOG IN RETAIL STORES - BIODERMA CASE STUDY IMPLEMENTATION
Can PWA technology be effectively utilized to boost sales not only online but also in retail stores? The answer is affirmative, as demonstrated by the latest implementation of an interactive PWA catalog we created for NAOS, the owner of the cosmetic brand Bioderma.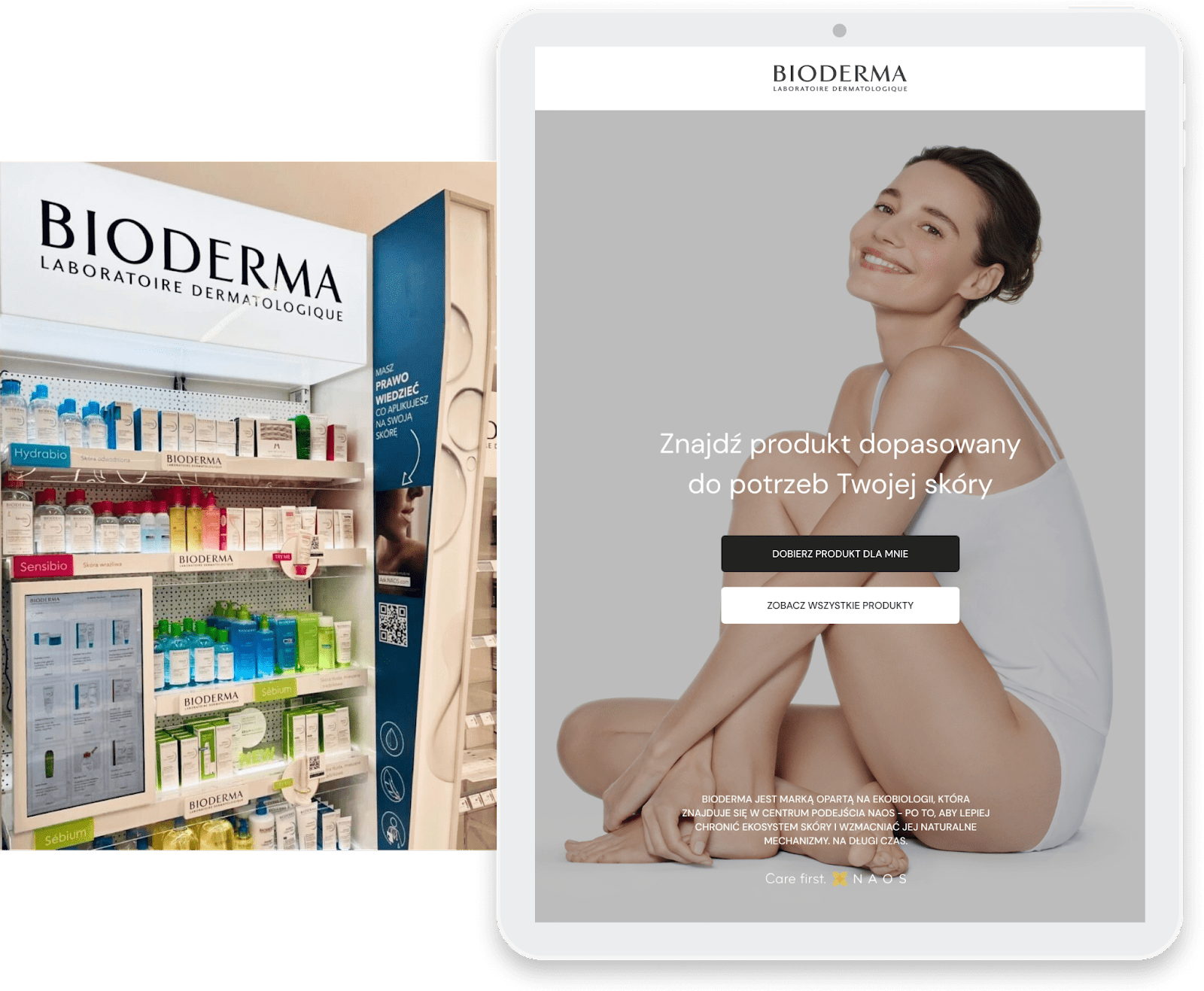 In the age of digital technology, increasing competition, and ever-changing customer preferences, brands worldwide strive to deliver unique, personalized, and omnichannel experiences. In this article, we will discuss the implementation of an interactive PWA catalog for the Bioderma brand, displayed on special screens right next to Bioderma product displays in Super-Pharm drugstores. The main goal of this implementation was to provide customers with personalized product recommendations at their fingertips.
PWA Technology in Retail Stores
From a technological perspective, the application is a simplified version of an online store. It allows convenient browsing of products without the option to make online purchases, although such a feature could be added in the future. This shows that implementing PWA technology in an online store can also be used to create additional fast-performing applications in retail stores or online catalogs for the B2B segment, based on a shared architecture and technology, without incurring unnecessary costs. The cost-effectiveness of the solution is also contributed by the fact that the PWA application runs on web browsers, eliminating the need to build expensive applications for iOS, Android, or other systems.
The Interactive PWA Catalog for the Bioderma brand is an example of innovative PWA technology utilization that not only facilitates customers in choosing the right products but also supports the brand's omnichannel strategy. This technology implementation enables customer education about the product, streamlines the process of selecting the appropriate cosmetic, and ultimately contributes to building a positive customer experience with the Bioderma brand at each touchpoint.
Functionalities and UX/UI Design
From a functional standpoint, the application serves as a virtual advisor that suggests products tailored to the customer's needs after they complete a simple quiz. It's worth noting that the content of the application is fully manageable - administrators can add products, edit quiz content, or include advertising materials using a user-friendly CMS, with changes visible in real-time.
The UX/UI design was created with the intention of maintaining consistency with other forms of brand communication, including fonts and color palettes, while also considering the specific environment in which the application is presented - the space of drugstores, full of stimuli and potential distractions.